frequently asked questions
How do I find a suitable activity?
Searching for activities on Funkey Bizz is a piece of cake.
1) Go to the 'Book activities' page in the main menu.
2) Use the filters at the top to narrow down the number of teambuilding activities.
3) Sort by popularity, rating or price to make it even easier to find the teambuilding activity you're looking for.
How do I get to see all the activities if there are categories missing from the activity filter?
The administrators of your company account can exclude some categories and/or activities from the quote (e.g. the more expensive teambuilding activities).
So you may not be able to select some categories in the filter and some activities may not be visible in Funkey Bizz.
How do I ask for a quote?
Have you found your ideal teambuilding activity? Great! 🥳
Scroll down to the bottom of the activities page and complete the quote form with all the details about your planned activity. Do you have certain requirements for the teambuilding activity? Enter them at the bottom in the comments and we will provide a customized solution.
You don't have to do anything else! We'll get to work on your quote request and provide you with an official quote in no time.
How do I combine several activities into one request for a quote?
You needn't take this into account at all. Send out separate requests for quotes for the activities that interest you and we will combine them automatically into one handy quote.
Can I have my entire building activity customized?
Absolutely! At Funkey, we customize every quote based on your needs and budget. Whether it's catering,  accommodation, transport or finding a good location,  we will take care of everything for you from A to Z.
How can I approve a quote and book the activity?
A quote waiting for your approval will appear automatically at the very top of your Funkey Bizz dashboard.
You can download all your quotes here and then approve or reject them using the 'Actions' button.

After approval you will receive confirmation from us by email together with information on any further actions you need to take (depending on your company policy).
I can't approve the quote in Funkey Bizz.
If you don't see an error message or something goes wrong during approval, please don't hesitate to get in touch with the Funkey contact person for your company or via [email protected].
How do I make the payment?
In order to definitively confirm the activity and to enable payment later, it is important that you create a PO (= Purchase Order). Ensure that the cost center owner has validated the activity budget before creating the PO.
How do I set up a profile picture?
No need to worry if you did not set your profile picture during the registration process. You can still spice up your profile with a fun photo via your profile settings.
1) Click on one of the two coloured buttons at the top right.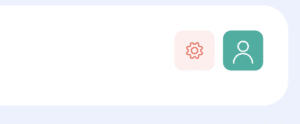 2) Go to the 'Personalize your account' tab and click on the '+' icon to upload a profile picture. Click the button at the bottom to save it.