Team building management platform
Manage your team building activities like a pro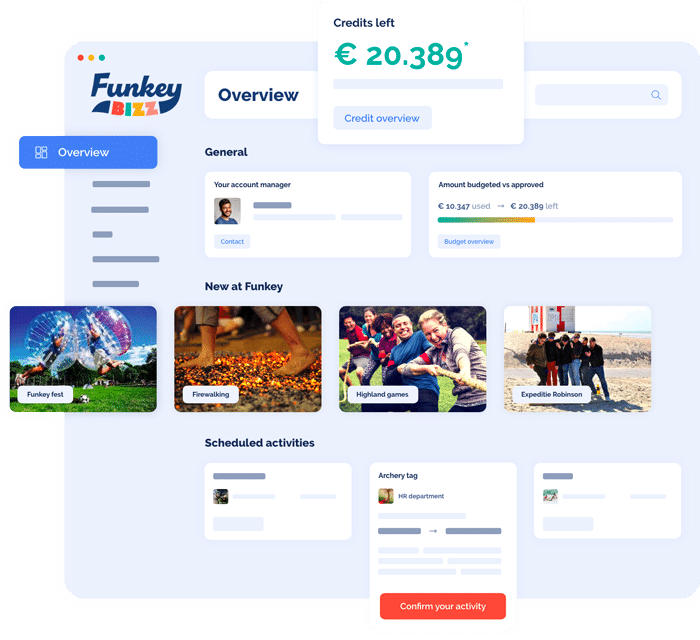 Organize, manage and control the team building activities within your company. And all this from one convenient platform.
All your team building activities
in one system

Create order
Everything you need is contained in one clearly structured system, from your company's team building offer to quotations and invoices. We put an end to the haggling between dozens of suppliers.
Stay in control
Set budget limits, determine which team building activities can be organized and follow up those booked. Nothing escapes your attention anymore.
Save time & money
Time is money. Funkey takes the time-consuming organization of team building off your hands and adds a large dose of experience and expertise. Result: faster, cheaper and better-organized teambuildings.
Tested and approved by ...

"[...] The most important result since the implementation of Funkey Bizz means tremendous time and cost savings."
Each employee gets automatic access to Funkey Bizz through our intranet, where they log in and can then exactly see what activities they can book and what budget they have already spent. We can then monitor all budgets and bookings from a central system.
Not only does everything run more efficiently at the administrative level, but we also see major savings in terms of organization. Where we used to arrange everything internally, we can now, free of charge, outsource the entire organization of teambuilding activities to Funkey. Everything from activities to catering and locations is taken care of.
The old way of working is definitely a thing of the past for us. We are fully committed to our cooperation with Funkey and Funkey Bizz.
Stefaan Haerick, Director Commercial Partnerships & Sponsoring at Proximus
We chose Funkey because of the great variety of team building activities. With Funkey Bizz we can maintain the individuality of the companies within our ecosystem."
Dimitri Hoppenbrouwers, Manager Events, Sponsoring & Corporate Culture at Cronos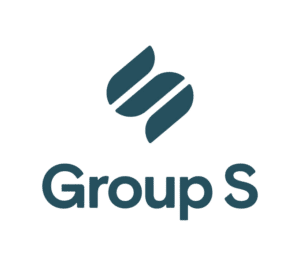 For us, the added value of Funkey Bizz is mainly the time saved for the manager: the team building activities are screened in advance, and we can filter, get a quote, and make a decision ever so quickly.
Kevin Haegeman, District Manager at Group S
Manage and track your budgets
With Funkey Bizz you can set a budget per employee/department.
We make sure that this budget is not exceeded. No budget restrictions in your company? No problem, Funkey Bizz just shows how much has already been used.
An offer tailored to your company
You and your colleagues can choose from hundreds of unique teambuilding experiences through Funkey Bizz — all checked for quality. Is an activity too expensive or too dangerous? You can remove it from the offer at the push of a button. It can no longer be booked.
Every team building activity organized by professionals
Activities booked through Funkey Bizz are organized entirely by Funkey. Your employees choose the team building activity, and we see to the right location, catering, transport and even accommodation.
A single point of contact for all your team building needs
To make things even easier for you as an Funkey Bizz client, we always assign one dedicated account manager to your account. This single point of contact helps you with all your questions about Funkey Bizz and with the organization of team building activities.
White label and SSO support
As a company you can offer Funkey Bizz as a full-fledged internal tool. As such we enable you to adapt the colours and design of Funkey Bizz to your company's house style.
Furthermore, employees do not need to create a separate account on Funkey Bizz. They can log in directly through their company account (Single Sign-On).
Exclusive discounts for Funkey Bizz customers
As an Funkey Bizz customer, you get a voucher for every activity booked that you could use as a discount the following year. So the more you book, the cheaper the activities become!
A Funkey Bizz subscription is an investment that pays for itself: because we don't charge any service costs to Funkey Bizz clients, you'll save hundreds or even thousands of euros each year!
Calculate your savings with our calculator. Enter the number of employees in your company and how many teambuildings per employee are organised a year. The calculator will tell you how much Funkey Bizz will save you.
Calculate your savings
Select your subscription
Monthly subscription
Save

17

%
Yearly subscription
Yearly cost
Yearly savings
Ready to manage your
team building activities
like a pro?
Want to see Funkey Bizz in action? Then book a demo with one of our team building experts. They'll be delighted to give you a full tour of Funkey Bizz and to answer all your questions.